Baptiste Royer, Ph.D.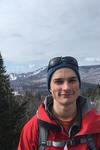 Professor at Université de Sherbrooke
Baptiste Royer completed a PhD from Université de Sherbrooke in 2019 under the supervision of Alexandre Blais. During his PhD, Baptiste worked on different topics related to circuit QED like single microwave photon detection, syndrome measurements in quantum error correction and two-qubit gates.
Baptiste is interested in bosonic error correction codes and microwave-to-optical quantum transduction.